Anacapa Townhomes Site Plan – An Oxnard Dunes Project
On Monday July 17th, 2017, residents, developers, and City Planners discussed the Anacapa Townhomes project.  The next planning meeting is scheduled for August 17th.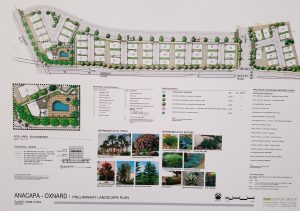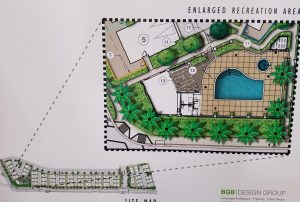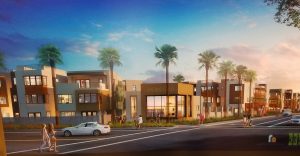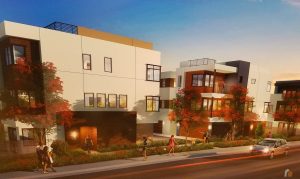 The proposed condo development in The Dunes, an Oxnard Shores Neighborhood, is located at the northeast corner of Harbor Blvd and Wooley Rd. Topics of discussion included traffic congestion, power lines, crosswalks, HOA influence, architectural design, price points, and street improvements.
• 50 Detached Condo Units
• 3-Story, 35′ Max Height
• Contemporary Design
• Smart Home Hub
• 3 Plans
• 3 & 4 Beds/Loft Options
• Roof deck plans that may offer ocean views
• 2-Car Gar/Attached
• No Driveways
• 42 Guest Parking Spaces
• Potential $30K+ Elevator Option
• Dunes Alley = Hobbs Way, to be 25′ wide, which includes guest parking
• East and westbound turn lanes off Wooley Rd to Canal St
• Crosswalk Across Wooley Rd
• Pool, Spa, and Rec Room
• High $600Ks – Unconfirmed Price Point
There is currently a 70-unit condo project approved.  The proposed complex is less dense and detached.  Predominantly located at the corner of a busy intersection,  some argue against its contemporary design, noting the currently approved project of Spanish appeal lends itself better to existing neighboring architecture: View the Currently Approved Project Here.
The overwhelming concern from local neighbors is the increased traffic and lack of infrastructure to support congestion.  With potentially an increase of 140 commuters, in addition to the new construction continuing at the nearby Seabridge development, this quiet little beach town continues to experience exponential growth.
Planet Home Living has designed several projects throughout the greater Los Angeles area and Orange County.  Many of which share the same architectural elements and can be viewed on their website here: Planet Home Living
Other news: Avalon is a future planned development by Oxnard Dunes LLC.  If the Avalon project is ultimately approved, developers hope to start building in fall 2017, according to the city's report, with completion estimated for fall 2018.  More details: Avalon Project
Let us know what you think by commenting below!
Rich Yerkovich, Broker
Real Estate Broker | Certified Appraiser
805-816-0284 | rich@living805.com
Living805 | BRE# 01945246